Yesterday, I decided to take my dog, Trixey for an afternoon stroll around the Lake. I brought my old pentax SLR camera. It was a gorgeous day so I started snapping various landscapes around the Lake. This kept me occupied while Trixey went about her usual sniffing ritual.
After using up aboput eighteen rolls of film, I was looking forward to going home to my darkroom for an afternoon of thrills. To my surprise, my heart nearly jumped out of my mouth when I lifted one of the last prints (shown below) out of the stop bath.
I was shocked, but it has sparked my interest in UFO's in the local area. Does anyone else have other photos of UFO's over Oakland?
Needless to say Trixey was very excited about it too!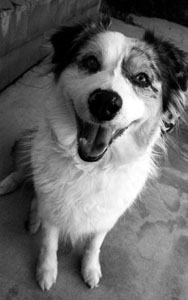 So we spent a thoroughly enjoyable evening in watching the "Benji, Zaxx and the Alien Prince" marathon on TV.